Welcome to PreK & Kindergarten!
The Primary A Classroom is home to our PreK and Kindergarten students, and is a joyful and engaging place to learn. Our youngest students work and play in a caring environment and learn their numbers and letters through meaningful hands-on activities. Children spend time each day drawing, writing, and exploring books. Self-expression through music and art is encouraged, and the classroom is well supplied with creative materials. There are many opportunities to develop gross motor skills through full body movement and outdoor play, as well as fine motor skills with activities such as painting, building with Legos and blocks, and using play-dough and Perler Beads. The children are encouraged to respect and care for one another, and to look to God's word for help in everyday situations.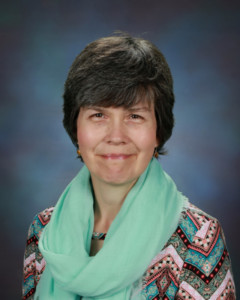 Andréa is our Primary A classroom teacher. Andréa joined us as a volunteer science teacher in 2006 and began teaching full-time in 2009. She loves the freedom to encourage a child's wonder at God's Marvelous creation. Andréa has a B.S. in education from SUNY Cortland, and a background that includes restaurant management, the fine arts, and science. Before joining the staff at CLCS she spent six-years running a lively home day care and spending time with her children. Andréa and her husband have three children; two graduated from CLCS and one is a current student. Besides working with the PreK and Kindergarten students in the classroom, Andréa contributes to the gardening projects at school, tutors students using the Wilson Reading System, and manages the CLCS social media venues. At home she enjoys spending time with her family, gardening and playing with Flute Song, an area flute choir.
Mrs. April Giamei
Bible time takes place in the morning after greetings and calendar work. The children will hear most of the stories in The Children's Bible Story Book over the course of the year. Certain stories are also presented using the Godly Play approach. Children also learn to sing and sign memory verses throughout the year, and are encouraged to pray for each other.
Resources:
The Beginner's Bible, Karyn Henley
The Jesus Story Bible, Sally Lloyd-Jones
My ABC Verses: Hiding God's Word in Little Hearts, Susan Hunt
Young Children and Worship, Sonja M. Stewart and Jerome W. Berryman
Our youngest learners are surrounded by a supportive and literacy-rich environment, which honors kid-writing and the efforts of young learners. The children are encouraged to draw, read and write every day in meaningful ways. Children love to write notes to classmates and family members and are delighted when they become experts at reading and writing important words like "mom," "dad," "I love you," and the names of their classmates. Students in Primary A learn a letter a week, in print and cursive, using a multi-sensory hands-on approach. They are also taught phonics skills, basic sight words, reading strategies and other foundational language arts skills.
Resources:
A Cursive Approach to Readiness and Reading, ARL McInnis
The Letter People, Abrams
The Daily 5: Fostering Literary Independence in the Elementary Grades, Stenhouse
ABC Phonics: Sing, Sign and Read, Nellie Edge
Kid Writing, Eileen Feldgus, Ed.D., and Isabell Cardonick, M.Ed.
We introduce students to basic social studies concepts, such as their place in the family, the school, and the community. We also talk about various community helpers and historical figures such as George Washington and Martin Luther King, Jr. Throughout the year, students take part in field trips within the community. Some of our favorites include taking a trip to our local library in the fall and visiting the Binghamton Zoo or a local farm in the spring.
Teacher resources
Teacher designed hands-on activities
Learning Math in our classroom is always fun! Students practice number skills daily, during calender time.
Cross body movement is also incorporated into Math time using the Math & Movement program. This facilitates muscle memory and wakes up sleepy brains.
Children are encouraged to discover mathematical relationships and to develop and use mathematical reasoning.
Resources:
RightStart Mathematics – Joan A. Cotter, PhD, Activities for Learning Inc.
Math and Movement -Suzy Koontz
Teacher designed hands-on games and activities
Children learn by experiencing, observing, and interacting with each other and their environment. For this reason, Science lessons are designed to actively engage the children. Children learn about the world around them, doing real life activities such as planting seeds in the school garden, observing meal worms and monarch caterpillars during metamorphosis, and taking field trips within the community.
Teacher resources
Teacher designed activities integrated throughout the curriculum
A Year of Hands-On Science Scholastic
Miss Tonika Jones
At the beginning of class, Tonika leads the Primary A students in a quick review, matching pictures and objects to their Spanish words. Primary A students might also practic the alphabet, colors, numbers, and classroom objects, as well as saying the date and describing the weather.
Tonika uses the Total Physical Response approach, in which students use motions to demonstrate the meanings of 10-20 action verbs. Primary A students also practice their new words with matching activities. Students particulary enjoy reinforcement activities like painting, making posters, eating food, learning Spanish songs, making puppets, play "store," dress-up, vocabulary bingo, and other games.
Teacher resources
Teach Them Spanish! (PreK and Kindergarten)
Art
Music
Physical Education