Louisa Goodsell
2000 CLCS Graduate
Full time Firefighter, Ithaca Fire Department
Art Education & Studio Art, Roberts Wesleyan College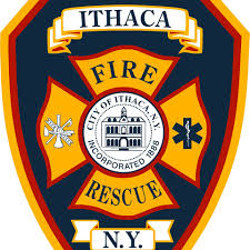 "The hero is commonly the simplest and obscurest of men."
~Henry David Thoreau
Louisa (Cushman '00) Goodsell is a full-time firefighter with the Ithaca Fire Department, working in cooperation with over 60 other firefighters to respond to the emergency needs of our community. Teamwork is key, and training and preparation are the pillars that the department is built upon. "I really enjoy the physical and mental challenges of firefighting. It's interesting to learn how to use all of the specialized equipment and to train to be prepared for any situation."
No one would guess that Louisa was a shy child.
At CLCS, she grew in ability and identity with the support and affirmation of teachers and volunteers. She thanks CLCS for providing a nurturing environment. "I was able to gain the confidence to be myself," she said. "I felt accepted just the way I was."
Louisa has happy memories of field days and class trips, but the friendships that she formed at CLC have left an even greater impact. Because she felt secure and affirmed, she could form "close, supportive, and lasting friendships." The comradery she felt with classmates in Kindergarten has followed her through the years. "I have friends today that I am still close with!" she said.
Louisa credits CLCS for preparing her academically for the challenges of high school. She said, "It helped me to make that transition smoothly." At CLCS, Louisa was able to take advanced classes. Due in part to her natural ability and in part to the academic training received at CLCS, Louisa was able to receive 17 college level credits upon graduating from high school.
During her college years, Louisa took an EMT class and volunteered as an EMT with the Dryden Fire Department. Soon after, she joined the Dryden Fire Branch as a volunteer. This led her to pursue a career in firefighting and in January 2015, she accepted a position as a full-time firefighter with the Ithaca Fire Department.
As a firefighter, she regularly interacts with people who are facing trauma, serous medical issues, or personal danger. Louisa sees God in her work as she helps people in crisis. "This job is about caring for people," she said. "It's very personal and relational."
Unafraid of challenges or career changes, Louisa is pursuing additional goals for the future. She will soon be juggling full-time firefighting with schoolwork as she works toward her RN at Binghamton University, where she is only four courses away from earning her degree.
A woman of many talents, Louisa has worked on the ski patrol at Labrador Ski Resort, enjoys remodeling the home she shares with her husband and two cats, and a variety of DIY projects. She holds a BA in Art Education/Studio Art from Roberts Wesleyan College. "I enjoy creating art," she said. "It's important to have that creative outlet, and I love to make items that are both beautiful and functional."